FRENCH MACARONS & SPECIALTY COFFEE
Located in the Main Street Arcade, downtown OKC, our little shop specializes in French macarons and specialty coffee.
Photos by Spenser Sakurai
Cafe Disco is a creation by Amanda and Spenser Sakurai. Two people passionate about their respective side of the cafe. Amanda, a self-taught home baker, was challenged by french macarons in her kitchen a few years back and has been baking them ever since. This, combined with Spenser's ever growing "nerdiness" for coffee, the pair seemed like a perfect fit for not only the husband and wife team, but also for OKC.
Cafe Disco, offers 10 core macaron flavors, 2 seasonals flavors and a small, focused coffee menu. Amanda and Spenser love the pair of macs and capps, (macarons & cappuccinos) and the Cafe Disco experience is designed around just that. Please come in and enjoy your macarons with a small, creamy cappuccino. Dunking highly recommended!
Cafe Disco also offers custom orders for events and parties. You can see our offerings and prices in our order section below.
Phone
(405) 594-2496
Location
629 W. Main St.
Ste. 103
Oklahoma City, OK 73102
Hours
TUES - SAT: 10a - 7p | SUN: 10a-4p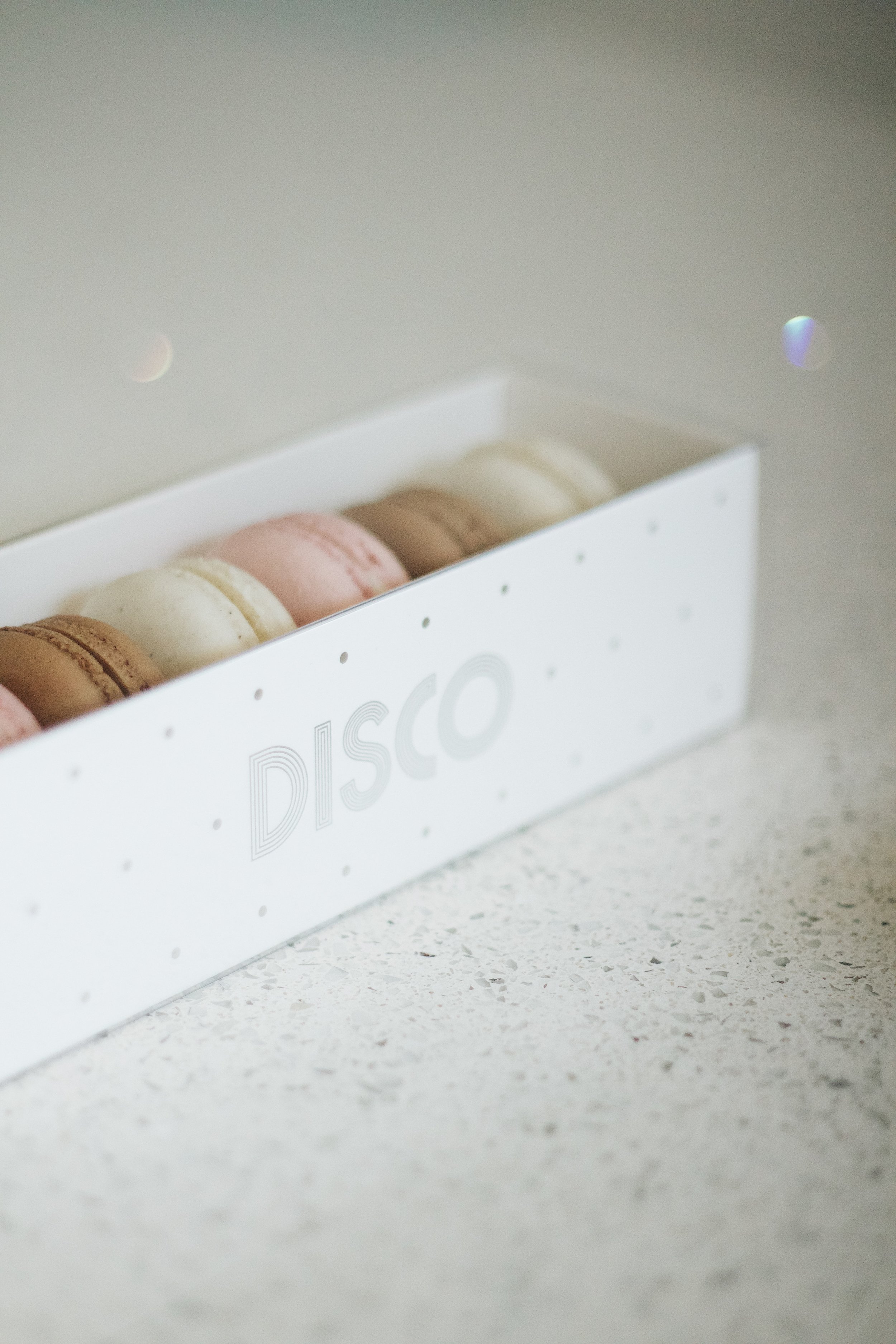 Macarons
Single - $2.25
6pk - $13
12pk - $25
MACARON TOWERS
4 tier tower (40 macs) - $95
5 tier tower (65 macs) - $145
6 tier tower (90 macs) - $195
7 tier tower (120 macs) - $255
8 tier tower (150 macs) - $315
9 tier tower (180 macs) - $375
10 tier tower (220 macs) - $455
Custom color - $20
Custom flavor - $20
please allow 5 days notice on all orders larger than 100 macarons and/or custom orders. All orders over 100 macarons will come with a 10 % discount - This price is reflected on macaron tower pricing. keep macarons refrigerated until delivering. let macarons reach room temperature before serving.
Call (405) 594-2496 from 9a – 7p Tues-Sat to order by phone.